Gov Camp Cymru is a day for people who want to make Wales a better place.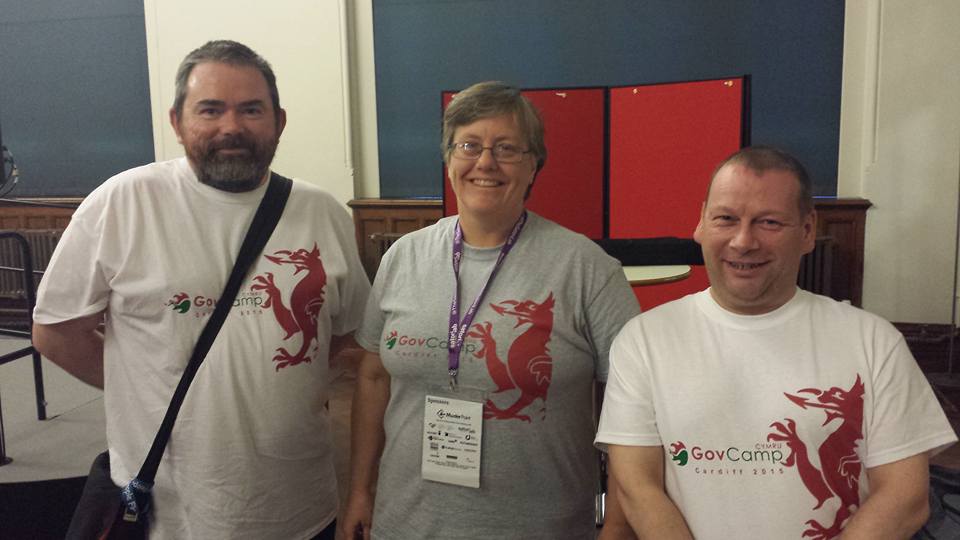 We do this by:
meeting up for a day


creating new ideas together

going away and using the new ideas

Gov Camp Cymru is always on a Saturday. This means people come in their free time.
This year it is on Saturday 24th September. It is at the Pierhead in Cardiff Bay.
It is free ☺ but you need a ticket. You can get a ticket from http://www.eventbrite.co.uk/e/gov-camp-cymru-16-tickets-25860692026
Anyone can come. (yes, anyone – if you have a ticket!)
Everyone is equal at a Gov Camp. No-one is more important. No-one is unimportant.
Last year, 150 people came. Some were:
public service managers

computer coders

members of the public

from community groups

from charities and businesses

from Welsh Government
We even have some people who came from London and Europe!
We all went because we wanted to meet other people who want to make Wales a better place.
Who runs Gov Camp Cymru?
It is run by a team of 12 volunteers (so far! Still time for more people to volunteer, and they probably will). Anyone can volunteer to help organise Gov Camp Cymru.
First timer?
Here's what it will be like on the day.
We meet from 9:30am at the Pierhead, Cardiff.
We sign in and get our packs.  The packs tell you:
What time we start

What time we have lunch and breaks

What time we finish

Where we are going for drinks afterwards
Then we go into the main hall to get a drink and meet the other people who have come.  The room will have some stalls you can look at too.
There will be people taking photos and people tweeting about the day. You can take photos and tweet too.
Please tell us if you do not want your photo taken.
Please ask before you tweet someone's name.
At 10:00am, someone will call us all together and say 'welcome' to us all.
The day starts with saying who we all are.
Then someone explains the rules and thanks the people who have paid for everything.
Next, we all agree an agenda. Here's how we do it:
Anyone who wants to run a workshop or lead a discussion gets in a queue.

When it is your turn, you have 30 seconds to say what you want to do. This is called a 'Pitch'. Someone will write down what you want to do on a post-it.

There is a big board with times and names of rooms.

Your post-it will be put next to a time and a room.
Everyone is welcome to 'pitch'.  But no-one will try to make you!
Some people have great ideas. But they have never seen a 'pitch'. So they don't feel confident to join in. If that sounds like you, talk to us! We can help you think how to do a 'pitch'.
When people have finished 'pitching', you need to:
look at the board

choose which workshop or discussion you want to go to

check which room it is in
Someone will stand by the board to help if you get stuck.
You need to follow the signs to the room. If you get lost, just ask a volunteer.
When you get to the room, the person who 'pitched' will welcome you. Then it's time to join in the discussion or workshop.
If you change your mind, you can get up and go to another room. No-one will think you are rude. It is polite to do this at Gov Camp Cymru.
Your pack will tell you what time each workshop finishes, and what time the next workshop starts.
You do not have to go to every workshop. Some people get tired and want a longer break.
You might want to miss a workshop so you can:
sit quietly

think

talk to someone they have met

go for a walk to get some fresh air
At the end of the day, we all go out for drinks. Usually, the first drink is free ☺
What are the workshops about?
We don't know! Anyone who comes can 'pitch' their idea for a workshop.
There are always a lot of pitches about digital.
Digital is jargon for:
The internet

Apps on phones and tablets

Websites that let you do stuff (like fill in forms)

Things like Facebook and Twitter

Any electronic information (like a digital clock or radio)
Some people at Gov Camp Cymru can make apps and write computer programmes.
Everyone at Gov Camp Cymru is interested in digital – some of us use it a lot, and some of us are a bit scared of it!
Last year the pitches were about:
'open' means anyone can have it and use it.
'data' means the information that someone has collected (like how many people use the website GOV.UK, or answers people give to a questionnaire about Social Services)
Ideas for how government, politicians and public services can use 'digital' to do things better

Citizens having more power

Ways for public services and members of the public to work together

Using 'digital' to get involved in politics